A Quality of Service Monitor for Geospatial Web Services
Table of contents
OGC OWS Monitoring Challenges
GeoHealthCheck Overview and Tour
Architecture
Installation
Extending GHC
Roadmap
Support
OGC OWS Monitoring Challenges
But our HTTP Monitor said:
200 OK...
GetCapabilities response OK, but
Capabilities doc may be static file
No guarantee specific requests will work (WMS GetMap, WFS GetFeature, etc.)
Time-based OGC Services
SensorWeb Enablement (SWE)
Internet of Things (IoT)
Sensor Observation Service (SOS)
SensorThings API (STA)
Public "Uptime" services
Generic HTTP checking (keywords)
OWS specifics need deeper inspection
Not accessible: most critical OGC-services run internally on intranets
Value proposition
OWS Aware Web Service Monitor
Quality of Service (QoS) Checking
with History Capture
GeoHealthCheck Overview
and Tour
Failing Resource!
Root Cause Analysis
GHC Parts
Python Webapp (Dashboard)
HealthCheck Runner (Plugins!)
Database
Dashboard
Configure/Manage Healthchecks
Flask Webapp
Standard Python WSGI
Run with Nginx, Apache2, Gunicorn...
HealthCheck Runner
Runs Healthchecks (duh!)
Driven by Scheduler (APScheduler)
Reporting (Down/Up, Daily Status)
Notifications: email, webhook, ...
HealthCheck Model
Resource: abstraction for (OWS or REST) API Endpoint
Resource: has (API endpoint) URL
Probe: fires request(s) on (Resource) URL
Resource has 1-N Probes
HealthCheck Model
Probe has N Checks (checklist)
Each Check: evaluates Probe result aspect (e.g. response content)
Check gives boolean verdict (success/fail)
All Probe Checks: Probe Run Report (JSON)
Plugins - Probes and Checks
Standard (included in GHC)
Custom (include your own!)
Configurable via Web UI
More later on...
Database
Entities

Users, Resources, Runs, Tags
Probes, Checks, Recipients

Per-Probe run schedule
Maintains history (Runs)
Multiple backends (via SQLAlchemy: default SQLite)
Tags
For grouping Resources
Provide/manage in Dashboard
Data Model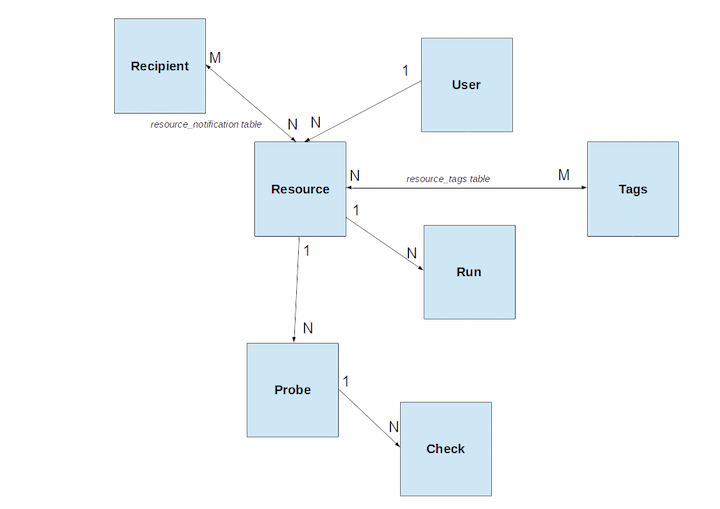 Extending GHC
Plugin Development
Plugin Model
Probes and Checks are Plugins
Plugin class and/or modules in config

Built-in Plugins: GHC_PLUGINS=
Your Plugins: GHC_USER_PLUGINS=

Must be in $PYTHONPATH
Plugin Model
Two Probe Types
Template (OWS) Requests
Free-form: Probe Anything!
Planned
REST API architecture
UI renewal (Vue.js)
Monitoring tools integration (Icinga, Munin, Prometheus etc.)
OGC Quality of Service and Experience Domain Working Group (QoSE DWG)
You Can Help!
Coding (Plugins!)
Testing
Documentation
User Stories
Sponsored Development
Translation
Shameless Plug
Cloud Subscription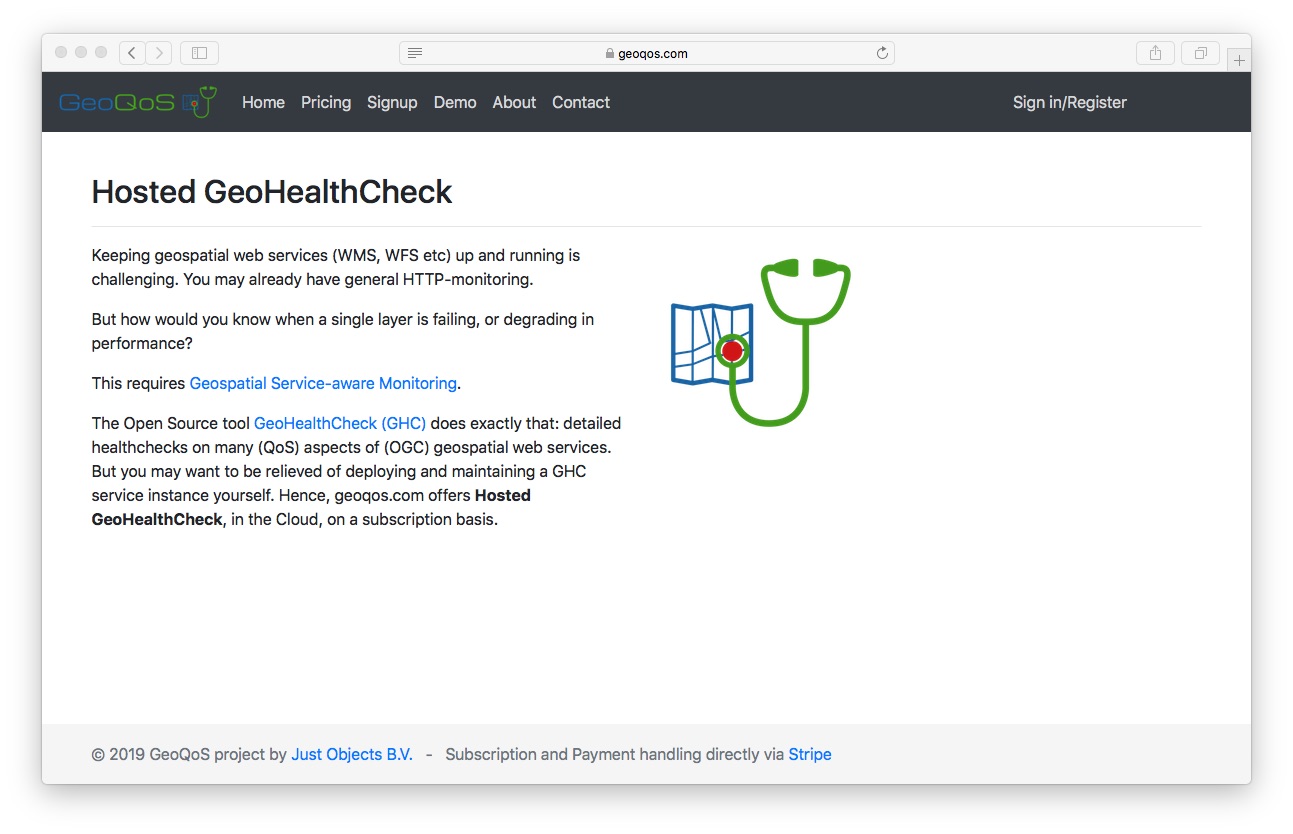 geoqos.com